Jeep CJ-7 Build
POR-15® is the trusted brand in the paint and coatings industry that stands for superior quality control, durability, and customer service. Best known for the unbeatable POR-15® Rust Preventive 3-Step System, POR-15® also offers a wide variety of specialty products to include POR-15® Top Coat, High Temp Heat Resistant Paint, Engine Enamel, and OEM Bed Liner.
The POR-15® team is excited to showcase our in-progress 2017 SEMA Project - a 1980 Jeep CJ-7 that we will take down to the bare frame and restore and refurbish. It's a great opportunity to demonstrate POR-15's capabilities to protect a variety of surfaces, enhance the appearance, and improve durability of a vehicle that is incredibly functional and robust in a trail environment. This latest build exhibits the POR-15 brand's commitment to delivering high performance coatings to vehicles from the pristine showroom floor all the way to the off-road trails.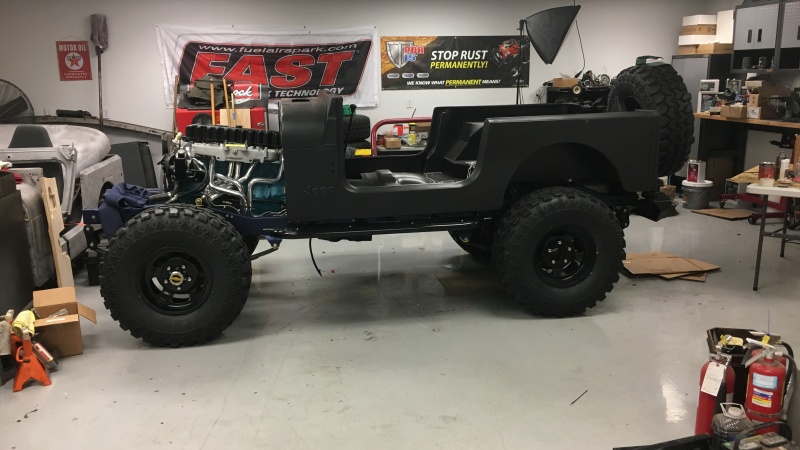 After media blasting was completed and an inspection was done of the body and sheet metal parts it was determined that previous body work and rust repair work had been to the body. We decided to call our friends at Omix-ADA for information on their body kit and was offered a new Rugged Ridge body kit for our build.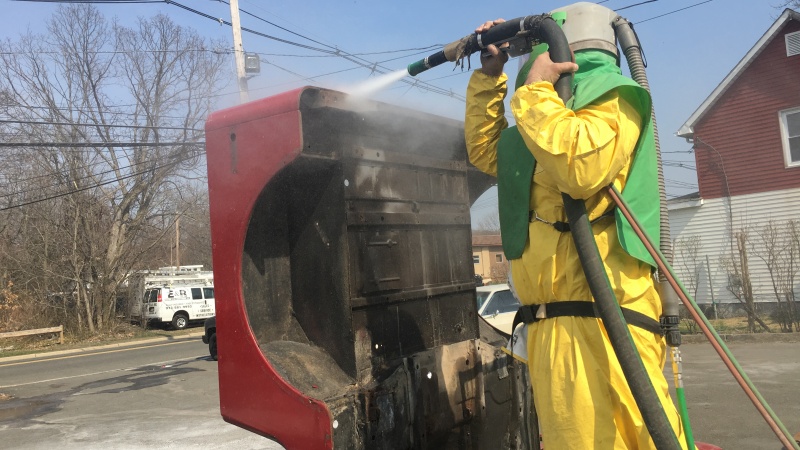 The Jeep body is transported from the POR-15 shop by flatbed to Classy Chassis Auto Restoration. Eric, from 1st Step Surface Prep eco friendly dustless blasting came onsite with their dustless media blasting system. Using a mixture of ground glass and water at high pressure the old paint and primer was easily removed with no damage to the metal surface.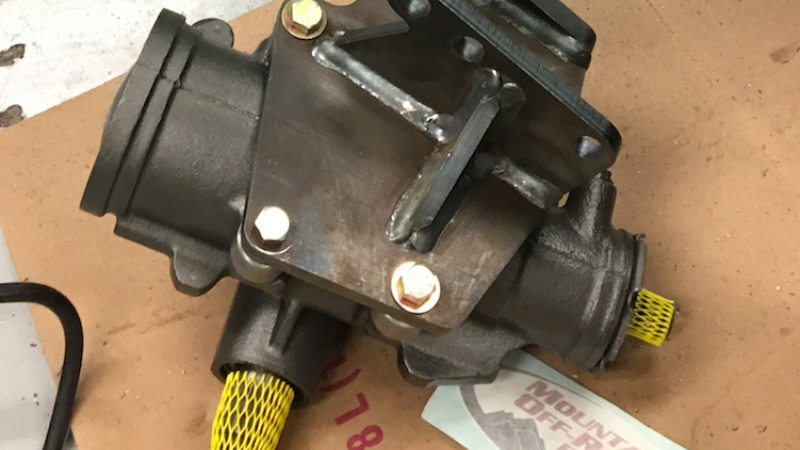 Installing the M.O.R.E (Instagram Account) heavy duty steering box mount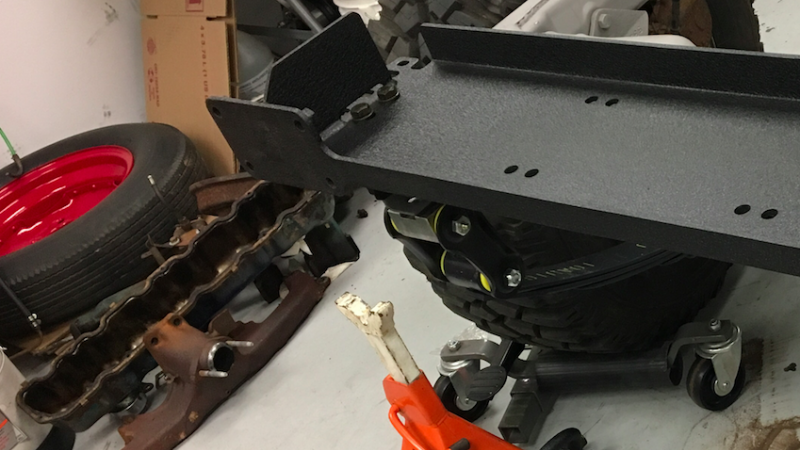 Fitting the front & rear bumpers.  Only required a little bit of modification to fit the new spring hangers.  All holes drilled and bumpers are mounted and mocked up in the correct position.  As the bumpers come from OMIX-ADA they are a direct bolt on for a most applications.  Because we have larger spring hangers we needed to clearance a bit.  And we got to use our favorite spark creator and grind away as needed.  Of course the bare metal will be prepped and coated with out 3 step system so it'll be well protected.    Definitely going to make this CJ look tough!!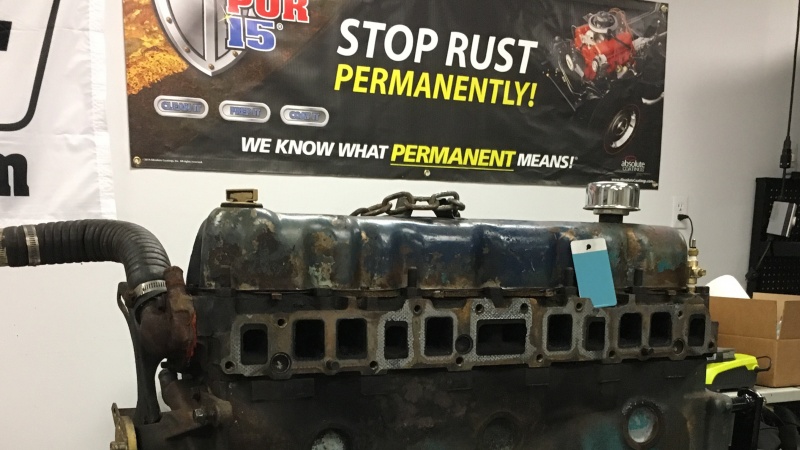 After the engine and transmission were removed from the frame the engine was bolted to a stand and the disassembly began. First the head was removed then the engine was spun over to remove the crankshaft, pistons and rods. Now it's down to a bare block and it's off to the engine shop to be cleaned and checked out.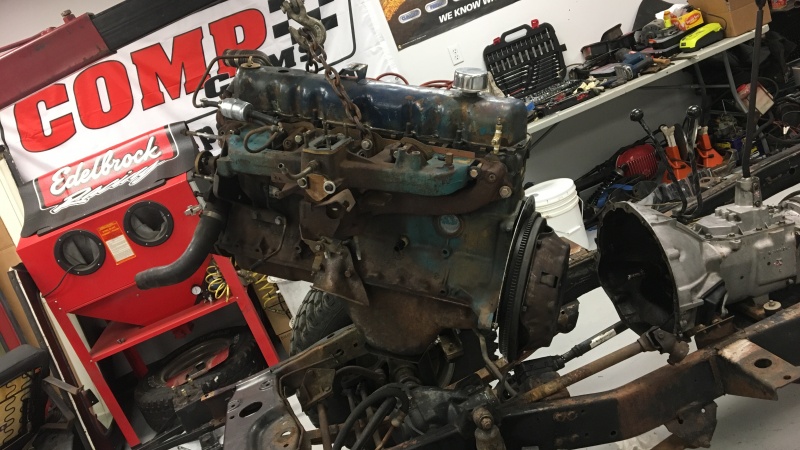 Hoisting the engine and transmission out. Working to get to a bare frame for blasting.
---
Sponsors

Borgeson
Heavy Duty Telescopic Steering Shaft

US Radiator
Heavy Duty Radiator

American Autowire
Complete Wire Harness

1st Step
Sand Blasting

Tom Woods
Custom Drive Shafts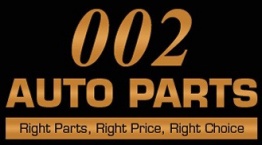 002 Auto Parts
Pompton Lakes, NJ
Misc Auto Parts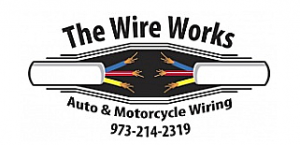 The Wire Works
Rockaway, NJ
Headlights and Wiring Harness

Proformance Industries
Fabrication

US Mags
Indy - U101 - US Mags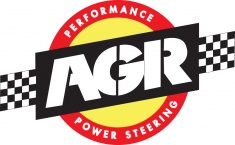 AGR Steering Pros
RockRam "Hydro Assist"

Interco Tire Corporation
Super Swamper Tires - 33 x 12.5 x 15

Omix-ADA
Bumpers, Winch & Fender Flare Kit, Dashpad, Seats, Console and others

COMP Cams
Cam & Lifters, Timing Chain and Gears, EZ-EFI Fuel Injection System

Edelbrock
Aluminum Cylinder Head with Valves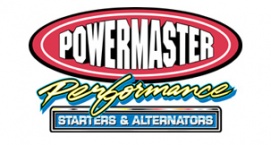 Powermaster Performance
Alternator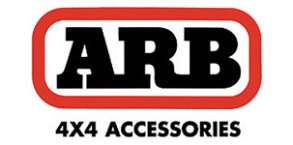 ARB
Springs, Shocks, and Bushings

Offenhauser
Intake Manifold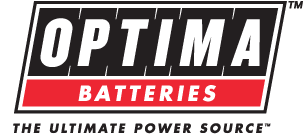 Optima Batteries
Battery

Flowmaster
Hushpower II Mufflers

Headman
Exhaust Header

Classic Tube
Stainless Brake and Fuel Lines

Rod Links
Clutch Linkage

OK4WD
Spring Hangers, Shackles, and U Bolts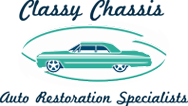 Classy Chassis Auto Restoration Specialists
Midland Park, NJ
Body and Paint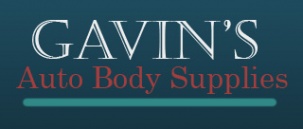 Gavins
Paterson, NJ
Body Paint