32 Ford Roadster Build
POR-15® is the trusted brand in the paint and coatings industry that stands for superior quality control, durability, and customer service. Best known for the unbeatable POR-15® Rust Preventive 3-Step System, POR-15® also offers a wide variety of specialty products to include POR-15® Top Coat, High Temp Heat Resistant Paint, Engine Enamel, and OEM Bed Liner.
Our 1932 Ford Roadster build idea was born during SEMA 2015. The 1939 flathead we displayed in our booth in 2015 was so well-received, we decided to build a car around it. We thought this was a perfect opportunity to show our customers how POR-15® products can be used in the restoration and build of a 32 roadster created in the style of a 1950's hot rod. Scroll down to learn more about the build.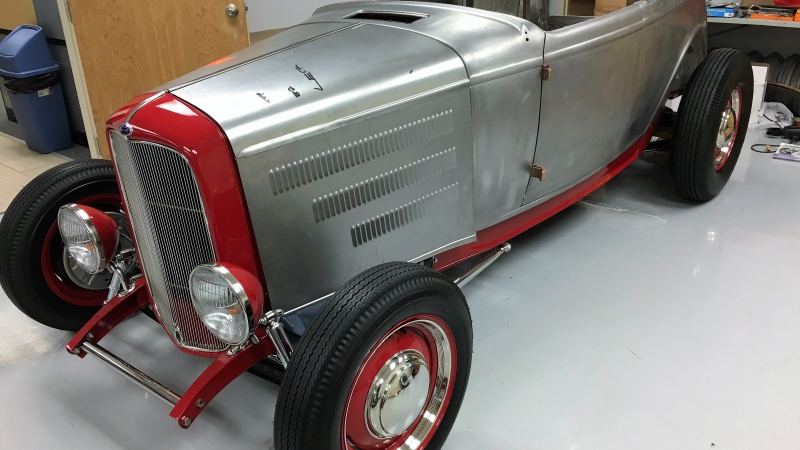 The Brookville body that had been previously painted black was easily stripped using POR-15 Gel Strip. When the rolling chassis returned from SEMA 16 the body and hood were carefully test fit to the frame before they left for paint.
After getting the our bare metal body test fit on the chassis in our shop it's on it's way to Classy Chassis Restoration in Midland Park for priming, body work and paint.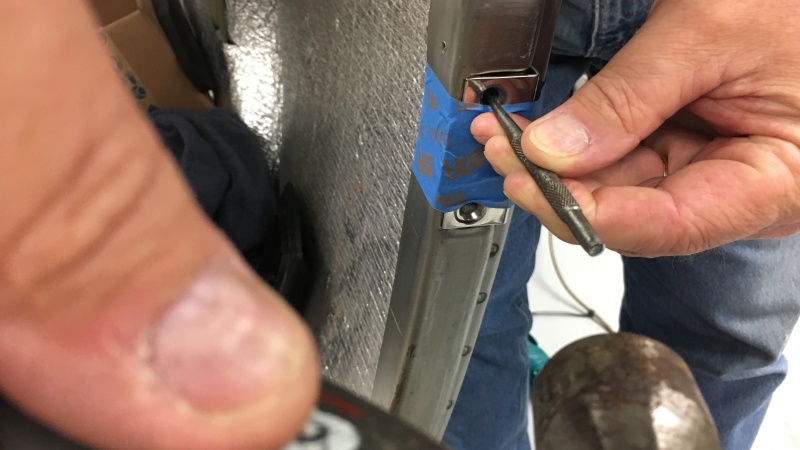 Each door jam gets a female Dovetail installed that aligns with the male half on the door. When the two pieces are installed and properly fit they assure proper door gaps and alignment.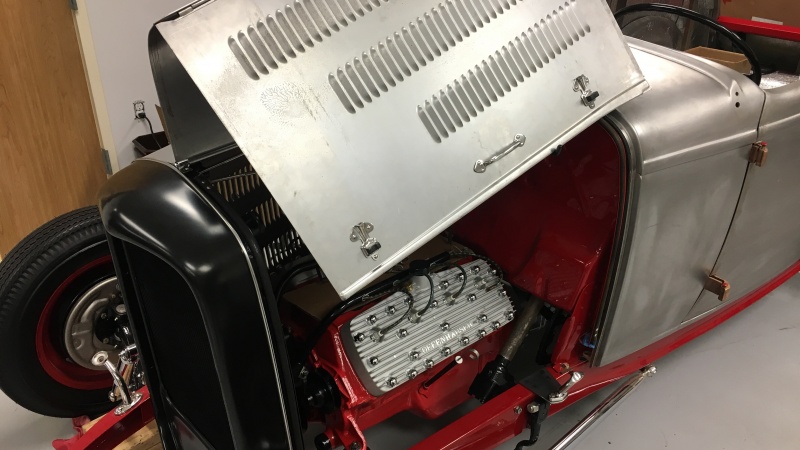 After drilling and mounting the polished stainless latches and handles on the hood we slid on the center hinge and test fit it on the car. After a little adjusting it fit real well with nice gaps to the grill shell as well as the cowl. We're getting close to paint.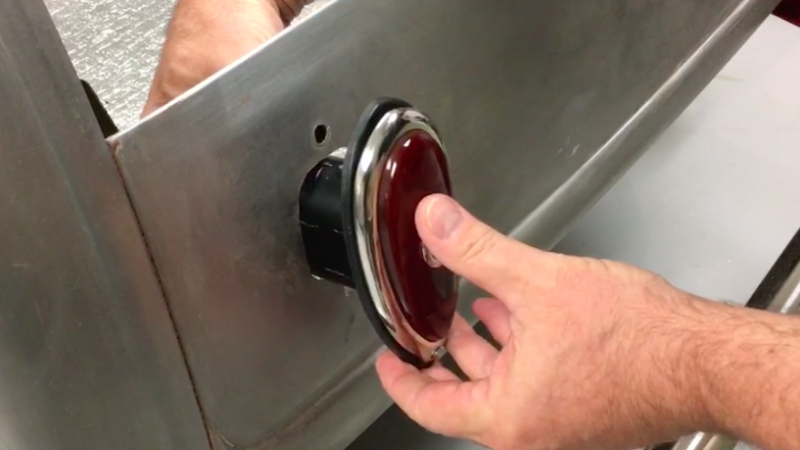 Mounting the '39 Ford taillights on the rear body pane of our '32.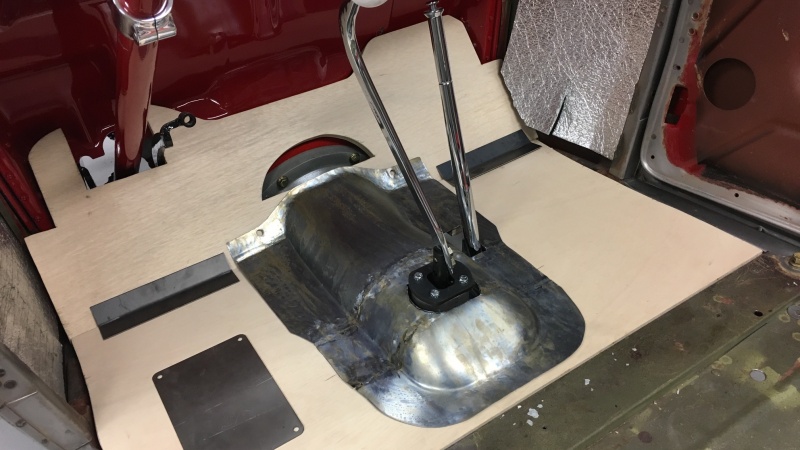 Once the floor boards were set into position we began to fit the transmission tunnel supplied by Howell's Sheetmetal Co. The closest tunnel we could find was for a 1933 / 34 so a few modifications were need to fit our '32.
---
Sponsors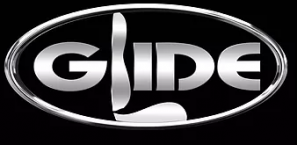 Glide Engineering, Inc.
1932 Roadster Seat Frame, Foam & Tracks
Sid Chavers
Bop Top - Convertible Top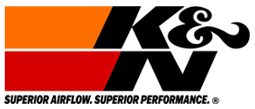 K & N - Superior Airflow, Superior Performance
Air Filters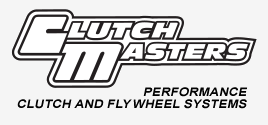 Clutch Masters
Clutch Disk and Pressure Plate

Phoenix Custom Powder Coating
Haskell, NJ
Sandblasting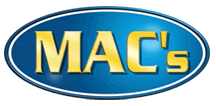 Mac's
Water Pumps, Overflow Tank, Seat belts, Misc parts

Bob Drake Reproductions Inc.
Fuel Pump, Spark Plug Wire Looms, Headlight Conduit and Licence Plate Light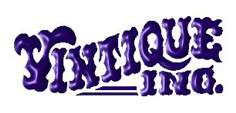 Vintique
Grill Shell, Grill Shell Trim and SS Door Strikers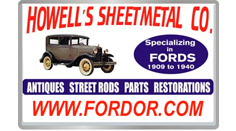 Howell's
Transmission Tunnel

Lime Works
Column Drop, Tear Drop Trunk Lid Handle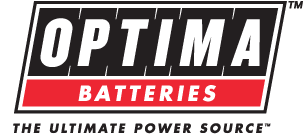 Optima Batteries
Battery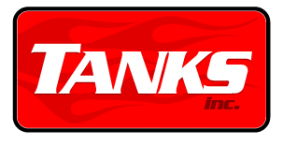 Tanks Inc.
Fuel Tank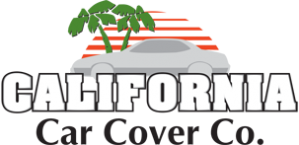 California Car Covers
Car Cover

Classic Tube
Brake Lines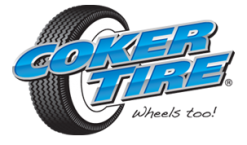 Coker Tires
Tires

Painless Performance
Wire Harness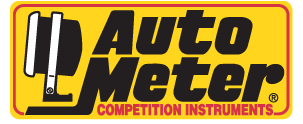 Auto Meter
Gauges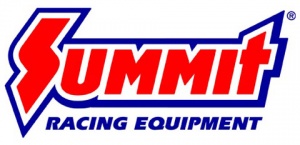 Summit Racing
Power Master Starter & Alternator, Stromberg 97 Carburetors

Offenhauser
Intake Manifold, Cylinder Heads

US Radiator
1932 Ford Brass Radiator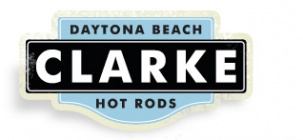 Clarke Hot Rods
1932 Ford Frame

Speedway Motors
1932 Ford Parts

Vintage Metal Works
Custom Adaptor – T5 Transmission to Original Torque Tube

Joe's Speed Shop
Drop Original 1932, 1940 Ford Spindles, Front End Alignment

ARP
Offenhauser Head & Intake Bolts

So-Cal
1932 Ford Parts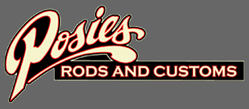 Posie
Front and Rear Spring

The Early Ford Store
Steering Wheel, Early Ford Pieces

Core-Shifters
Hurst Shifter Base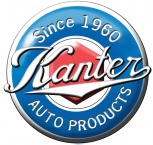 Kanter Auto Products
Boonton, NJ
Brake - Wheel Cylinders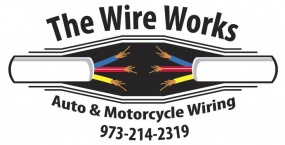 The Wire Works
Rockaway, NJ
Complete Wiring of Car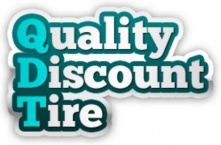 Quality Discount Tire
Ledgewood, NJ
Mount and Balance Tires

Flowmaster
Hushpower II Mufflers

H & H Flatheads
1948 Ford Flathead Engine Rebuild

Wheel Smith
1940 Ford 16" Steel Wheels

Rootlieb
Hood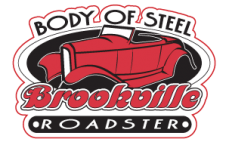 Brookville Roadster
Floor Pan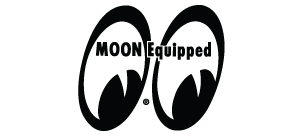 Moon Eyes
Remote Oil Filter

All Star Transmission Specialists
Haledon, NJ
Provided Re-manufactured T5 Transmission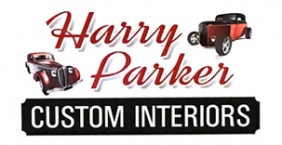 Harry Parker - Custom Designers LLC
Midland Park, NJ
Upholstery

Harrington's Speed & Auto
Butler, NJ
Hurst Shifter stick and Knob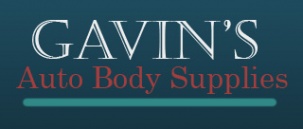 Gavins Auto Body Supply
Paterson, NJ
Body Paint

Valtek Truck Body Shop
Paterson, NJ
Frame Painting – Bob Fylstra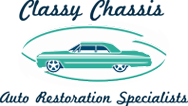 Classy Chassis Restorations
Midland Park, NJ
Body - Sand, Buff and Polish – Bob O'Connor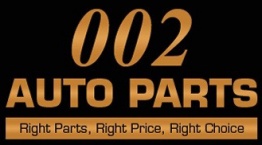 002 Auto Parts
Pompton Lakes, NJ
Master Brake Cylinder, Misc. Parts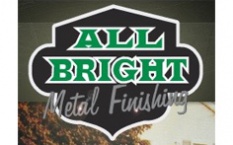 All Bright Metal Finishing Co
Hillside, NJ
Chrome Plating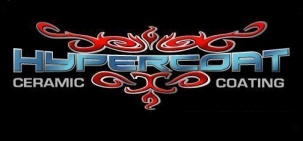 Hypercoat
Pompton Lakes, NJ
Sandblasting