Our Brand
Products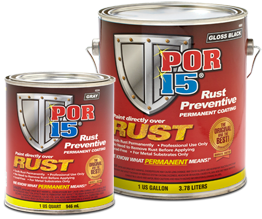 POR-15® Rust Preventive Coating
No Need to Remove Rust First!
The secret lies in POR-15® Rust Preventive Coating's curing process. Most paints dry through evaporation, but POR-15® Rust Preventive Coating dries faster when moisture is present. It has the opposite chemistry of ordinary paints. Now add to that POR-15® Rust Preventive Coating's incredible hardness, toughness, and flexibility, and you have a coating that is practically indestructible. POR-15® is great for auto restoration and this incredible product is now sold in 52 countries around the world. Use POR-15® to protect expensive and valuable equipment against rust and abrasion. POR-15® also has excellent "surface tolerance," which means it works very well on porous surfaces.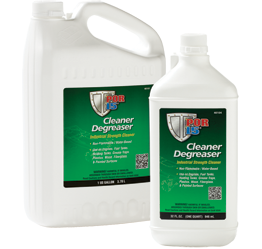 Cleaner Degreaser
Cleans and Degreases in One Application
POR-15® Cleaner Degreaser cleans and degreases in one application without leaving residues, noxious fumes or flammable solvents. No other cleaner works as fast or as well. It makes petroleum-based cleaners almost obsolete because it can be diluted with water to 3, 4, 5, and even 10 times its volume while remaining even more potent than other cleaners. POR-15® Cleaner Degreaser removes grease, oil, mildew, algae, musty odors, soap films and wax. Use it to clean canvas, vinyl, nylon, holding tanks, grease traps, auto parts and more. Before applying ANY rust preventive coating or paint, you MUST remove all oily film or residue to be absolutely certain of good adhesion.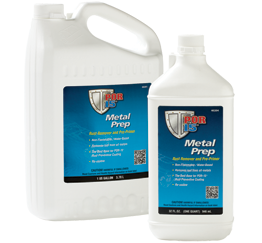 Metal Prep
Etches Metal and Leaves a Zinc Phosphate Coating
Now that you've degreased and cleaned your metal, use POR-15® Metal Prep to guarantee the best paint adhesion on ANY metal surface, including aluminum and shiny polished metal surfaces. POR-15® Metal Prep etches metal, leaves a zinc phosphate coating, and creates the perfect anchor pattern for any topcoat, especially our incredible POR-15® Rust Preventive Coating.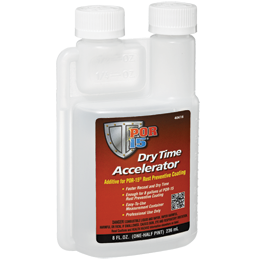 POR-15® Dry Time Accelerator
Additive for POR-15® Rust Preventive Coating
POR-15® Dry Time Accelerator is an additive specially formulated for use with POR-15® Rust Preventive Coating. Dry Time Accelerator is designed to accelerate the cure time of POR-15® Rust Preventive Coating by 30-50% without affecting the ultimate physical properties. Developed to allow for a more efficient production environment, Dry Time Accelerator reduces recoat and dry time and enables you to move on to the next phase faster, without compromising product performance.
The accelerator is added to POR-15® Rust Preventive by volume and should be thoroughly mixed. Once mixed in typically the cure time of the POR-15® Rust Preventive is reduced by 30-50%. Important: Adding the accelerator drastically reduces the cure time (time you have to apply to your substrate) and under humid and warmer conditions the dry time is significantly quicker.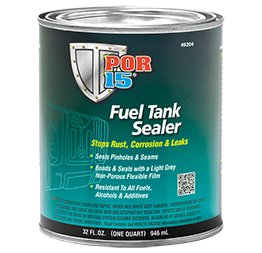 Fuel Tank Sealer
POR-15® Fuel Tank Sealer was formulated and developed in our own laboratories due to the demand for a high-tech sealer impervious to all fuels, including the new Stage II fuels which have a higher alcohol content. It has superior strength and fuel resistance, and does not contain Methyl Ethyl Ketone, a highly flammable and deadly carcinogen (cancer-causing).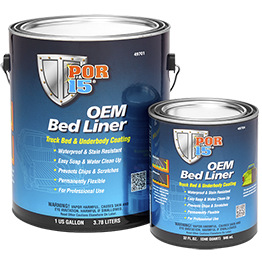 OEM Bed Liner
POR-15® OEM Bed Liner is formulated to provide professional results that out perform non water-based formulas. POR-15® OEM Bed Liner is a water-based, rubberized coating ideal for protecting truck beds, and all other metal, aluminum, fiberglass, and wood surfaces that are exposed to impact and scuff related environments. POR-15® OEM Bed Liner offers superior adhesion, impact resistance, and flexibility, as well as an attractive, texturized gloss black finish that provides the ultimate in truck bed protection.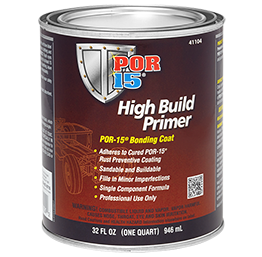 High Build Primer
Buildable & sandable - the finest primer you'll ever use!
For years we've worked on a primer to paint over well-cured POR-15® Rust Preventive Coating. We wanted one that was buildable and sandable and easy to apply. POR-15® High Build Primer is the answer. It has great interlocking adhesion qualities and very little preparation is necessary to get a top-notch bond. With a solids content of 60%, High Build Primer has all the body it needs to do the job right with great leveling as well as to overcome surface irregularities.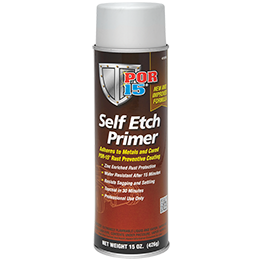 Self Etch Primer
Terrific over cured POR-15® Rust Preventive Coating
POR-15® Self Etch Primer is the perfect solution for painting over top of cured POR-15® Rust Preventive Coating. This terrific, high-tech coating will gently etch tough and glossy POR-15® Rust Preventive Coating, making the perfect surface for bonding with the paint of your choice. Now you can use POR-15® Rust Preventive Coating for the ultimate protective coating, while also topcoating with any color or type of paint!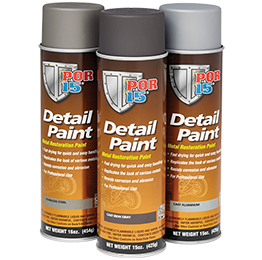 Detail Paint
Replicate the look of metals on original cast parts.
POR-15® Detail Paint provides professional grade finishes that reproduce the original look of cast parts. POR-15® Detail Paint is perfect for water pumps, intake manifolds, and master cylinders. Designed to protect against rust, all the colors are developed to have a low sheen, and will not yellow to keep your restored component looking factory new.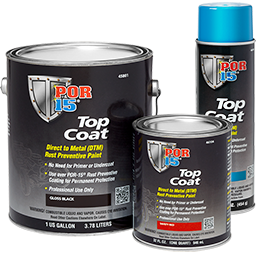 Top Coat
POR-15® Top Coat is a direct-to-metal coating designed to work incredibly well in all applications where there is a need to preserve substrates susceptible to corrosion. Under exposure to sunlight and weather POR-15® Top Coat has exceptional long-term gloss and color retention. POR-15® Top Coat can be applied directly to metal substrates, with no need for a primer or undercoat, and is formulated to form a robust barrier that sheds moisture to provide long lasting protection. POR-15® Top Coat has excellent adhesion and when used over POR-15® Rust Preventive Coating the products create a system works to provide a permanent barrier to corrosion.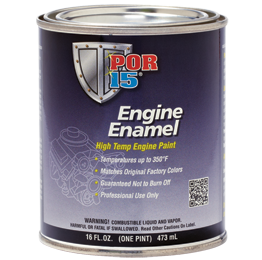 Engine Enamel
Restore, brighten or customize your engine with POR-15® Engine Enamel. This durable direct to metal coating creates a smooth, high-gloss finish that withstands the rigors of the engine compartment while improving the look and preventing corrosion of the metal components. POR-15® Engine Enamel withstands intermittent temperatures up to 500°F (260°C). In addition to its exceptional long-term gloss and color retention it resists damage from oil, gas, grease, salt, humidity, solvents and of course rust.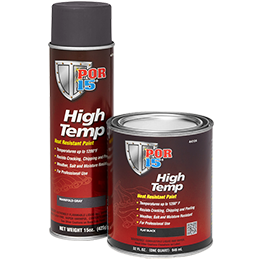 High Temp
Guaranteed to maintain rich, brilliant colors without burning off or discoloring.
POR-15® High Temp is capable of withstanding extreme temperatures up to 1200°F and will resist cracking, chipping, and peeling. Brush on or thin to spray. Sandblasting is optimum surface preparation. Flat Black, Manifold Gray, and Aluminum, can be used on all cars, domestic or foreign, and meet or exceed properties and requirements of MIL-C-13370.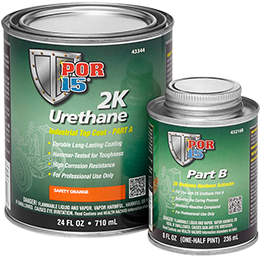 2K Urethane
Check out our new super-tough POR-15® 2K Urethane paint. 2K Urethane paint is a tough, glossy, two-component coating for use over primed or painted surfaces. When fully cured, 2K Urethane paint is rock-hard, chemical-resistant, and incredibly tough. Durable and easily cleaned, it will not crack, chip, or peel with age. This beautiful, two-component coating is stronger than any color paint you have ever tried. The long-lasting brilliant colors will look terrific wherever you use them, and remain durable.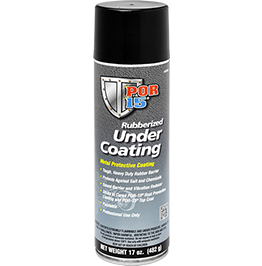 Rubberized Under Coating
POR-15® Rubberized Under Coating is a flexible, paintable, black coating. It will protect against moisture, dust, heat and cold. It is an excellent moisture barrier for application over auto body repairs and creates an effective sound barrier that reduces vibration and deadens sound in wheel wells, quarter panels, fenders, frames and under carriages. Provides superior adhesion to both painted and unpainted surfaces. POR-15® Rubberized Under Coating has superior resistance to road salt and will resist chipping and abrasions. May be used to insulate against engine and muffler noise, protects against dust penetration and exhaust fumes.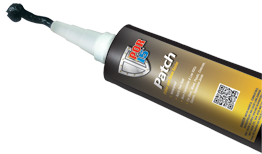 Patch
Filler and Seam Sealer
For years our customers have asked us for a thicker version of our world-famous POR-15® Rust Preventive Coating, to use for filling seams or holes. Here it is! POR-15® Patch is, quite literally, POR-15® Rust Preventive Coating, in a tube, and like POR-15® Rust Preventive Coating, it dries as hard as a rock, remains flexible, and once dry is totally impervious to fuels and solvents. It's so tough it may actually add strength to weakened metal. And it won't absorb moisture and swell like conventional body fillers.

Epoxy Putty
Industrial Pliable Filler
This incredible epoxy putty product is so strong you can drill and tap it, yet gentle enough that you can apply it with your bare fingers. And since it is water-based, you can simply wet your fingers, and work it until it is almost perfectly smooth before it dries – eliminating most sanding! But when it cures, it's rock hard, making it perfect for repairing steel, plastics, concrete, etc. Amazingly, it even sticks to damp surfaces, and will cure under water.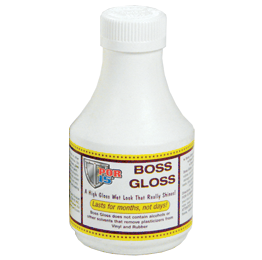 Boss Gloss
Clean & Protect Plastic, Rubber & Vinyl
Treat and preserve plastic, rubber, and vinyl with POR-15® Boss Gloss. After we had tried some of the big national brands, we were disappointed with the way they seemed to fade away so quickly, and in no time at all, we had to reapply the stuff. Also, it seemed to attract dust. Our chemists told us that this was partly because the big companies reduce the amount of solids in their products to save costs, and partly because they use alcohol and other solvents. We decided to make our own premium quality product, in the style and tradition of all other POR-15® Products, with more solids, and NO alcohol or solvents which can remove vital plasticizers, and lower the life expectancy from vinyl and rubber. Our special combination of premium chemicals turned into a terrific product, which we call POR-15® Boss Gloss. We were delighted to learn that, as a side effect, POR-15® Boss Gloss seems to repel dust too!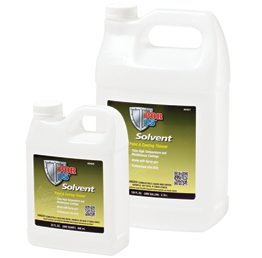 Solvent
POR-15® Solvent is the only appropriate solvent to use when thinning our coatings for spray painting. We developed it precisely for this purpose, at the request of many of our loyal customers.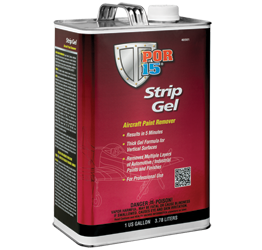 Strip Gel
Aircraft Paint Remover
POR-15® Strip Gel provides a superior aircraft-grade formulation resulting in a highly effective paint remover that quickly lifts the toughest automotive coatings from metal surfaces. Its heavy-bodied consistency provides excellent vertical hold perfect for upright and difficult to reposition projects. The Strip Gel formula is safe for all types of automotive metal.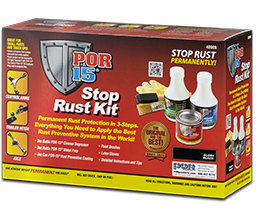 POR-15® Stop Rust Kit
The complete POR-15® 3-Step System in one package!
The POR-15® 3-Step System is designed to stop rust on metal surfaces and ensures the best results when applying POR-15® Rust Preventive Coating. The clear-cut process allows for the proper cleaning, prepping, and coating of metal to create a non-porous surface that seals and protects metal from water, chemicals, and salt, and other corrosive contaminants.
The POR-15® Stop Rust Kit covers a 6 square foot area with two coats making it ideal for small projects like subframes, axle replacements, control arms, brake shields, etc. Kit contains POR-15® Cleaner Degreaser, POR-15® Metal Prep, POR-15® Rust Preventive Coating, paint brushes, latex gloves, and detailed instructions.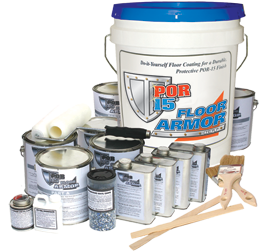 Floor Armor Kits
Now, seal your floor permanently, with POR-15® Floor Armor floor painting kits, from the makers of POR-15® Rust Preventive Coating. No need for acids; no need to flood your floor with water. Just use our easy degreaser on any heavy oil or grease stains, vacuum away any dust or dirt, and paint right over everything with POR-15® Floor Armor. Get the same fantastic results you have come to expect from world-famous POR-15® Rust Preventive Coating, with this terrific new product. It is the result of several years of development by our own chemists and product specialists.