American Icon - Icon Clear & POR-15 Matte Clear used on our Pedal Car Restoration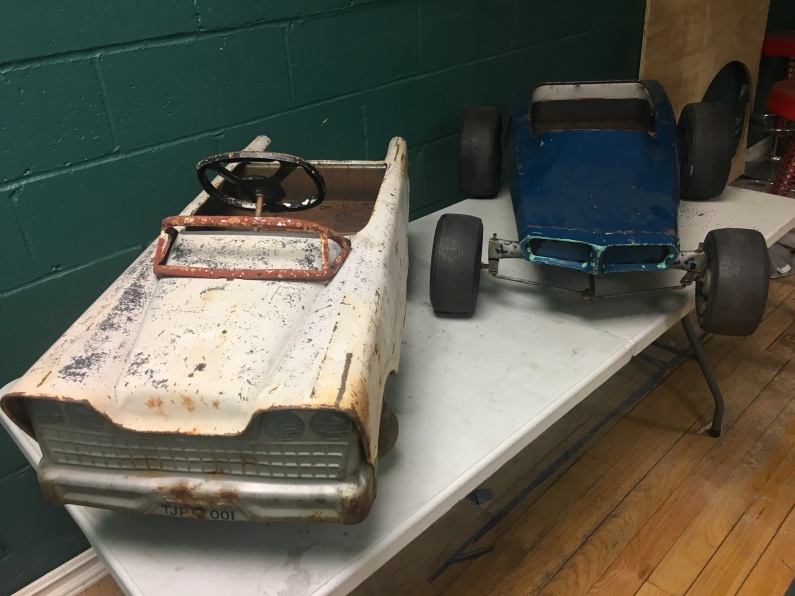 After finding two pedal cars on Craig's List we decided to restore each of them. We went in two directions to showcase each of our clear coats. Our Matte Clear was used on the white car to lock in the patina and not allow any further deterioration of the surface. Matte Clear is a water based 2K clear. Our blue car was sent to the body shop for body work and paint and was clear coated using our American Icon - Icon Clear. It provides a brilliant, long lasting shine. 
Our two Craig's List purchases ready for restoration.
 Our blue car will be restored to "as new" condition using our American Icon - Icon Clear over a blue base coat.
The white car will be restored but the finish of the body will be preserved as is having the patina of the paint and bare rusted metal locked in using our POR-15 Matte Clear. When dry the Matte Clear almost disappears and the surface looks as if no clear had been applied but no further deterioration will take place.
After disassembly and cleaning our POR-15 Matte Clear was applied to preserve the old paint and rusted bare metal so no further deterioration would occur. Once applied and allowed to completely dry the POR-15 Matte Clear has very little shine and is almost not able to be seen on the surface. 
 While the car was apart the windshield, Steering wheel, wheels and hubcaps were media blasted and painted. 
 A little pin striping completes the project.  
 Our blue car was completely dissembled and the body was media blasted to remove the old paint and rust.
Surface dents, waves and scratches were removed.
 A blue base coat was applied over primer and two coats of our American Icon - Icon Clear was applied to the exterior and our POR-15 Rust Preventive Coating was used on the underside surfaces to prevent any rust in the future.
After paint the car was reassembled. We found a new set of wheels and tires and added upholstery to the interior.
 Pin stripping and headlights added.
 Lets not forget the tail lights.
 All packed up and ready for shipping to the PRI trade show.